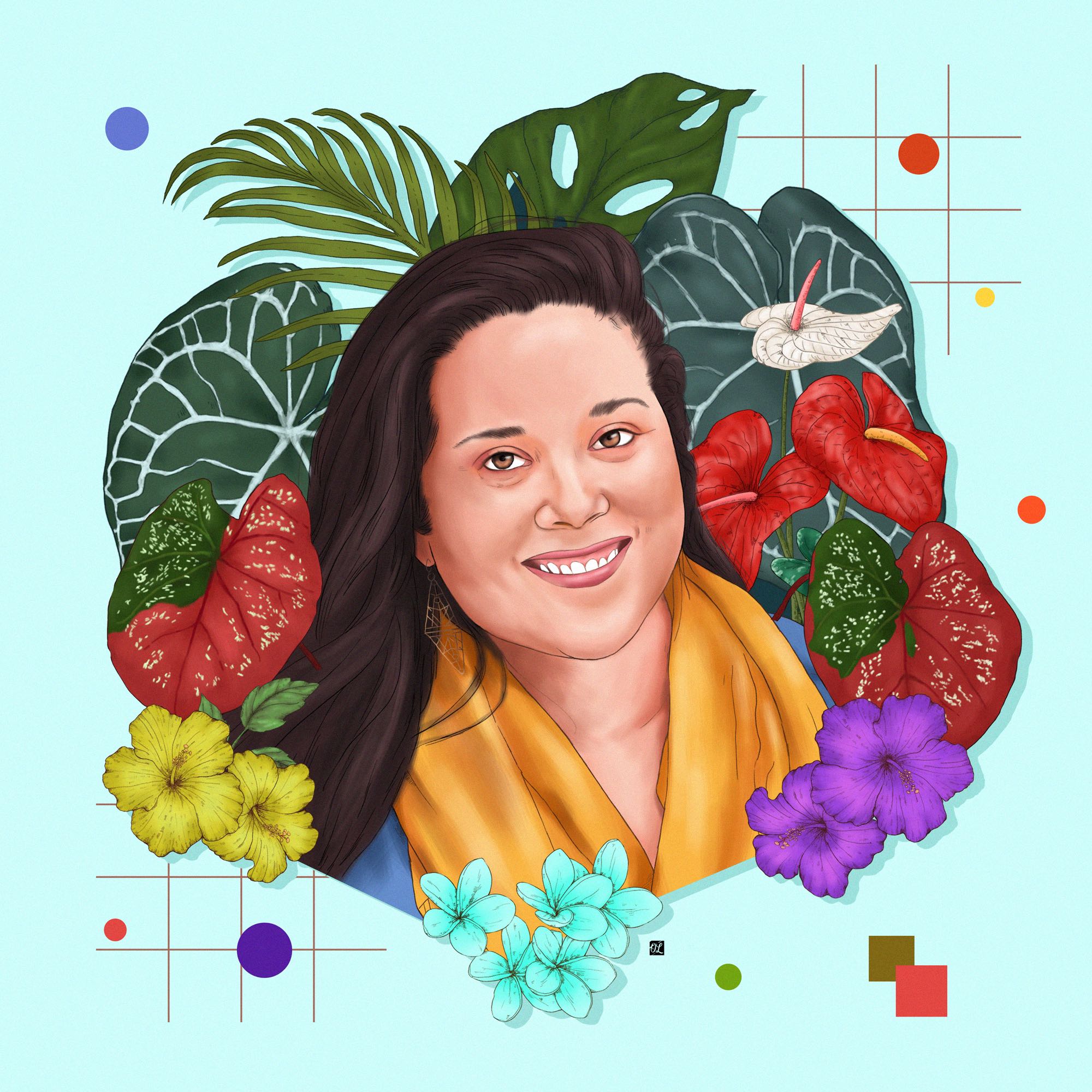 Vanessa N. Ortiz
Lead Product Designer
Revamping Rite Aid's Account Creation & Dashboard
An important navigational anchor for users attempting to accomplish account-related tasks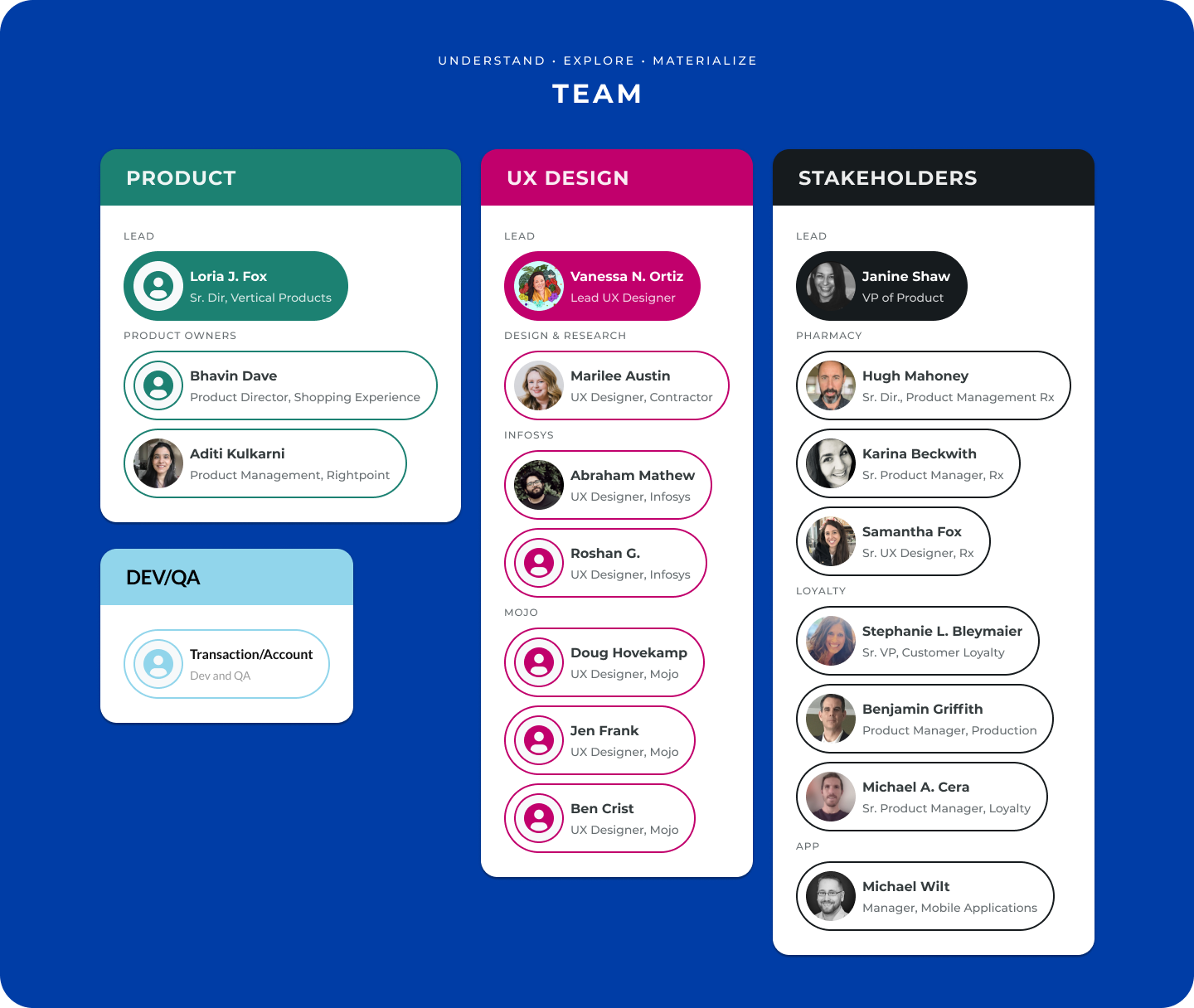 Account Dashboard Overview
The account dashboard serves as an important navigational anchor for many users attempting to accomplish account-related tasks. It's important to acknowledge that, unlike e-commerce product navigation and e-commerce search, users almost never "sporadically" navigate their e-commerce account to "get inspiration" or "see what's available". Users who navigate all account-related areas and features only do so when they have a specific task they need to complete. Therefore, the dashboard must be carefully designed to overcome its many limitations.
The Challenge
How might we simplify the account creation process and make the account dashboard a robust navigational tool for users looking to manage and access account features and their notifications? In particular, ensuring that the dashboard serves as a true "home base" by including all account features including guiding users to their "next best action."
The Goals / KPIs
Increase account creation completion

Increase account holder spend. Current account holders
• Shop 2x more frequently
• Buy 1.4x more
• Cross shop 1.4x more
• Have 0.7x less abandonment
My Role
Lead the UX design and strategy. Manage junior and mid-level designers assisting with the overall project.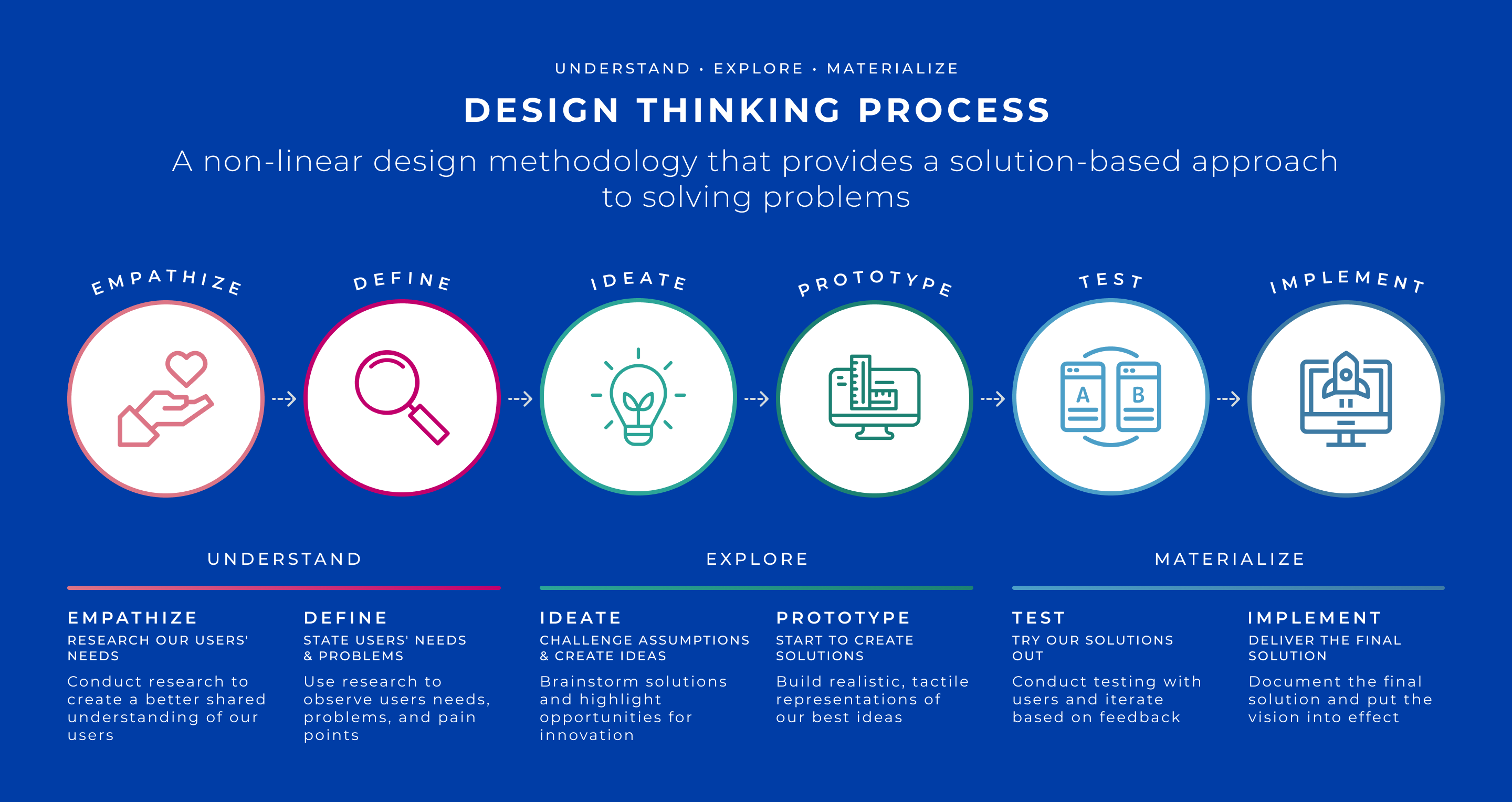 Main Personas
Three personas were crafted based on common Rite Aid use cases. These personas, each embodies typical user goals and needs and highlight potential problem areas that allow for improvement in Rite Aid's digital user experience.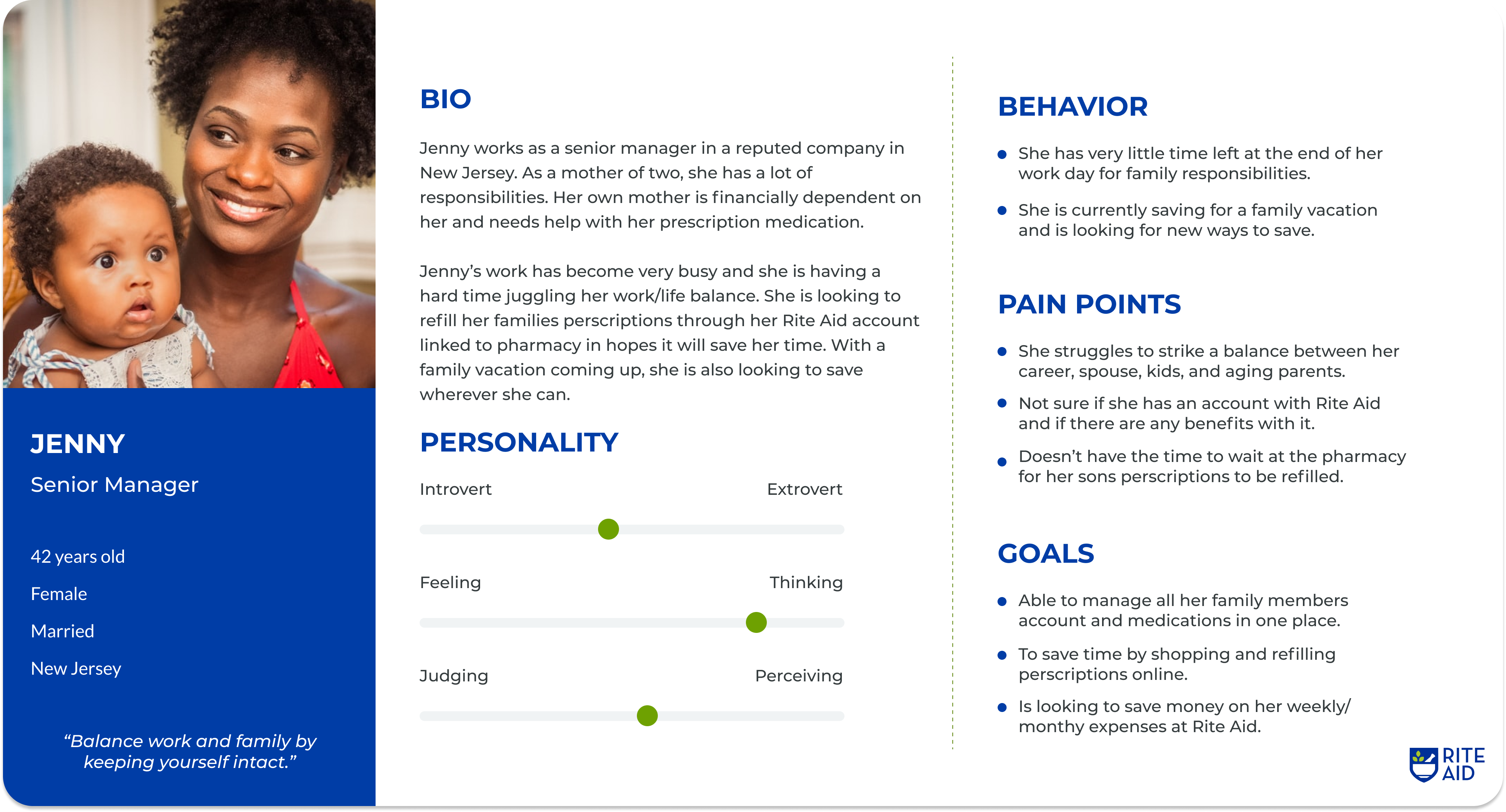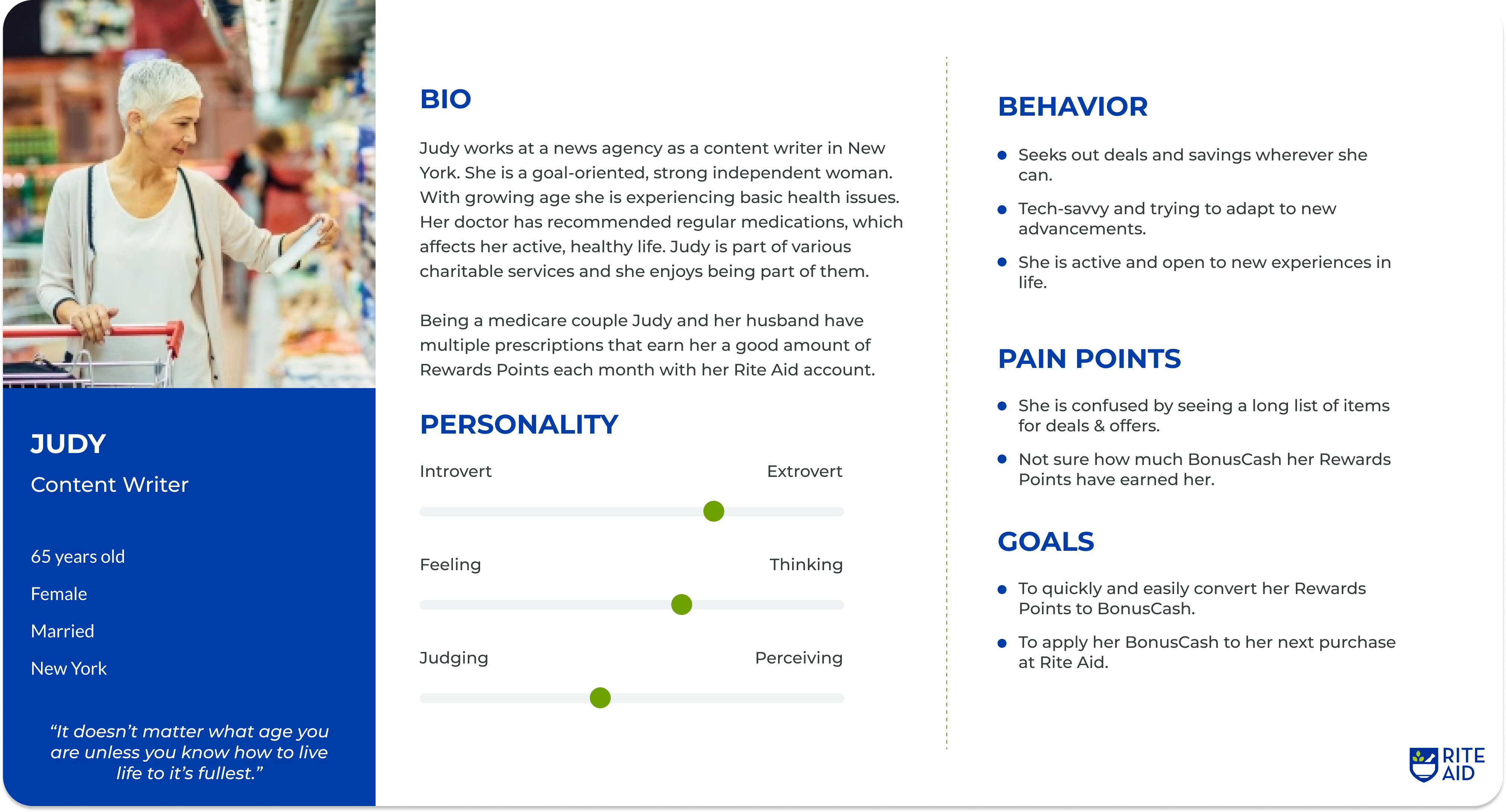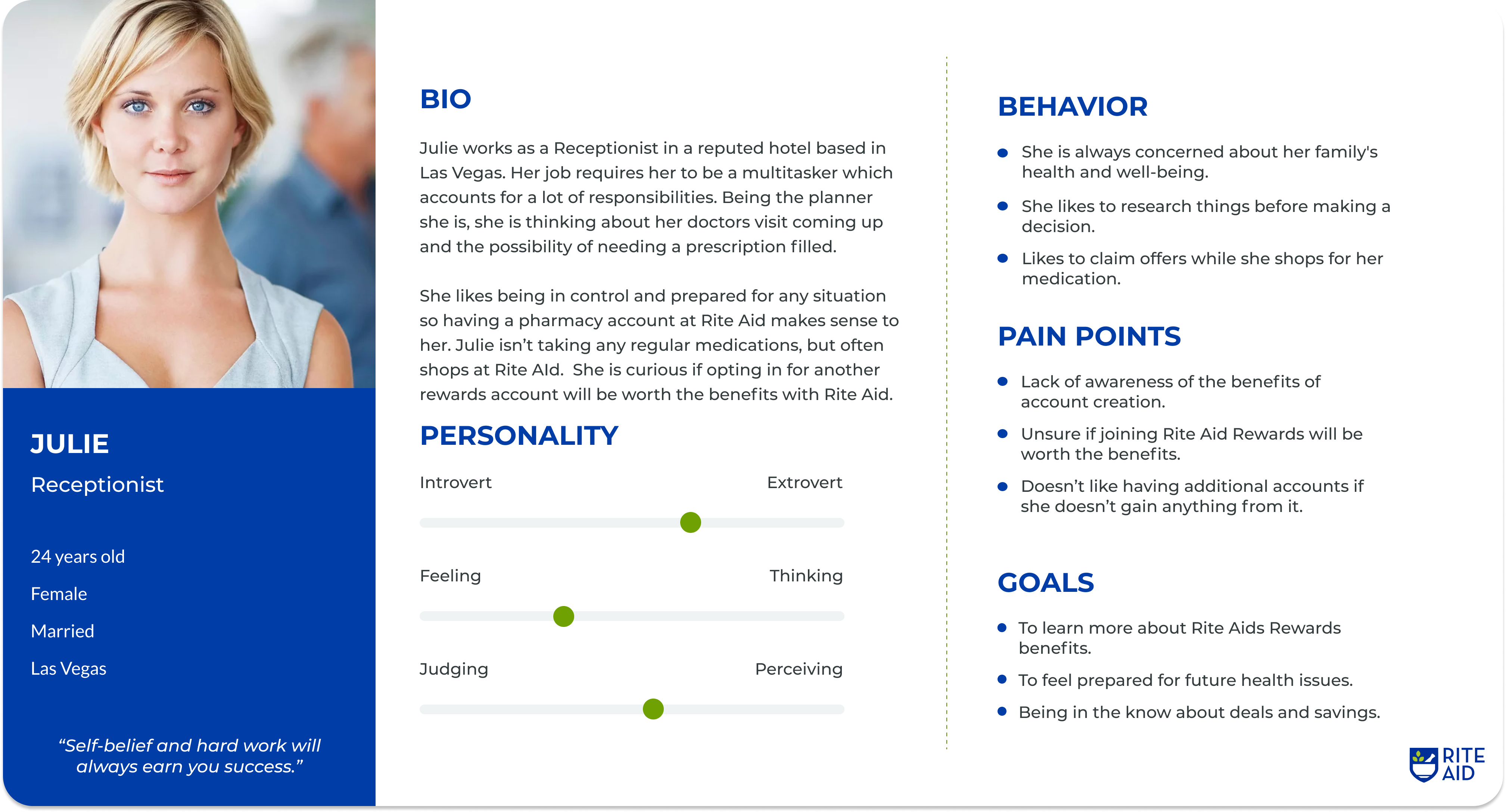 Empathy Maps
We crafted empathy maps to continue to help us understand our user's needs while developing a deeper understanding of the persons. We use empathy maps as a tool to help us empathize and synthesize our observations, and draw out unexpected insights about our user's needs.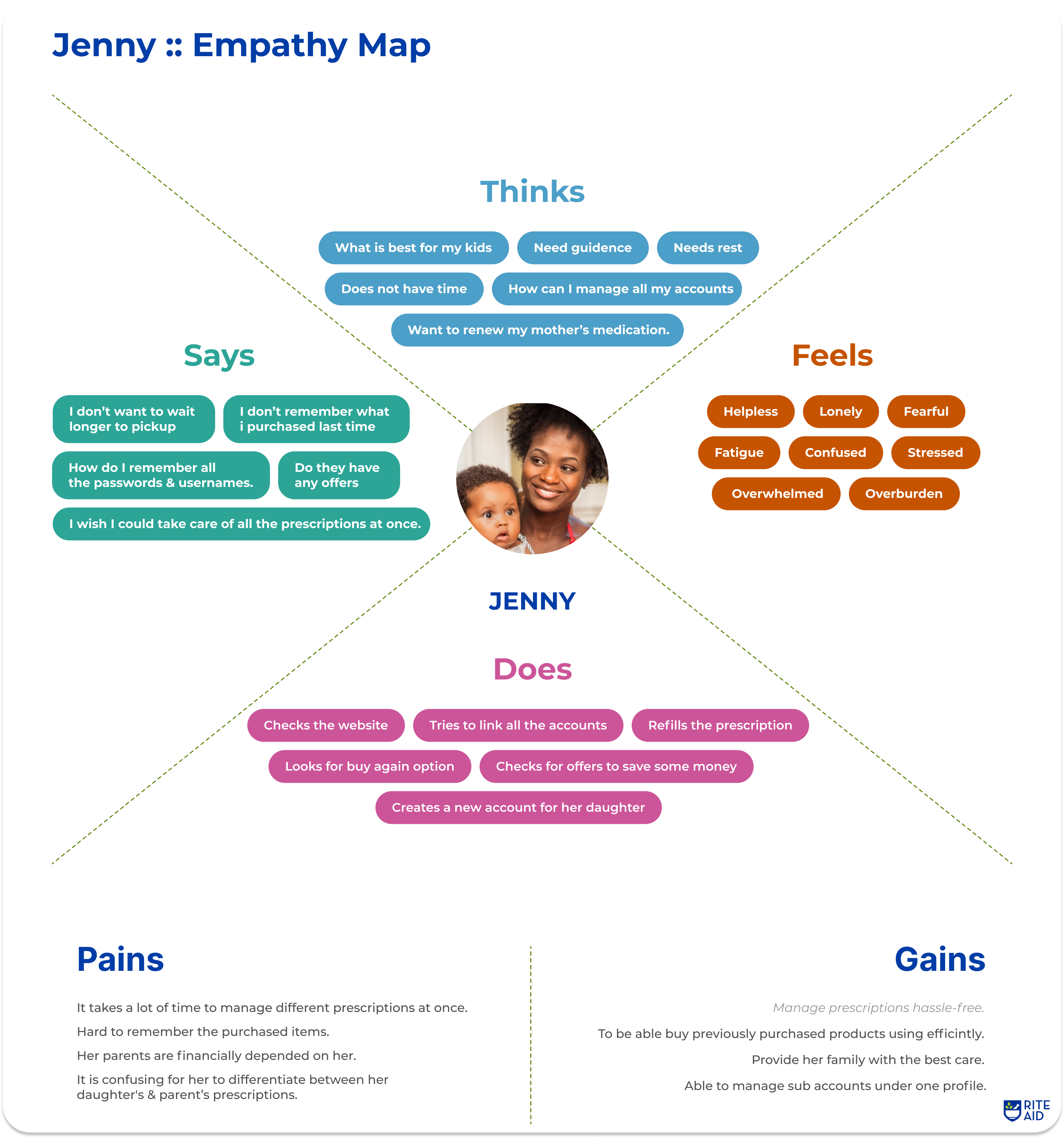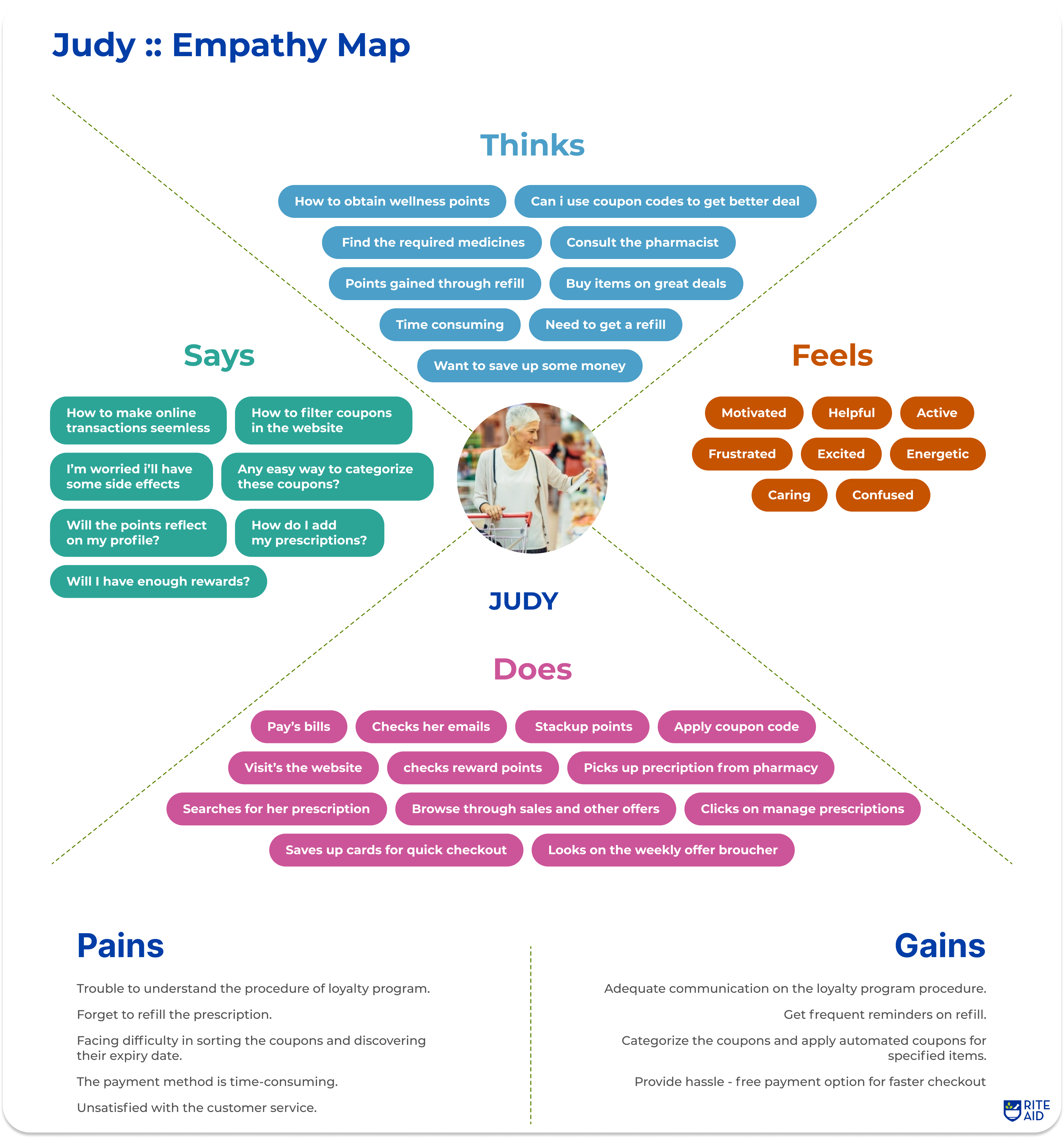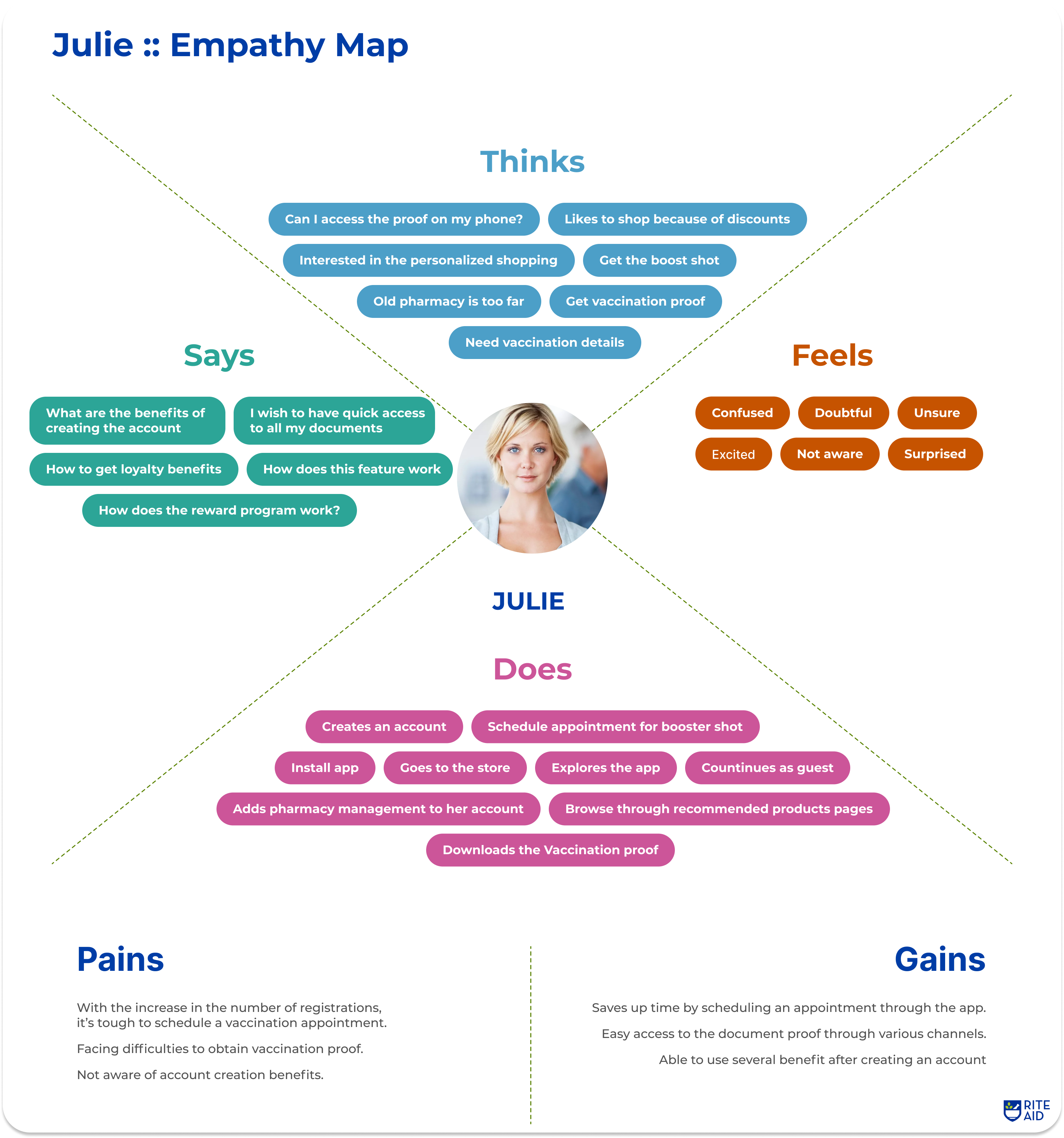 Customer Journey Maps
We used customer journey maps to help tell the story of our most common customer's experiences with their account creation. This process helped us gain insights into common customer pain points.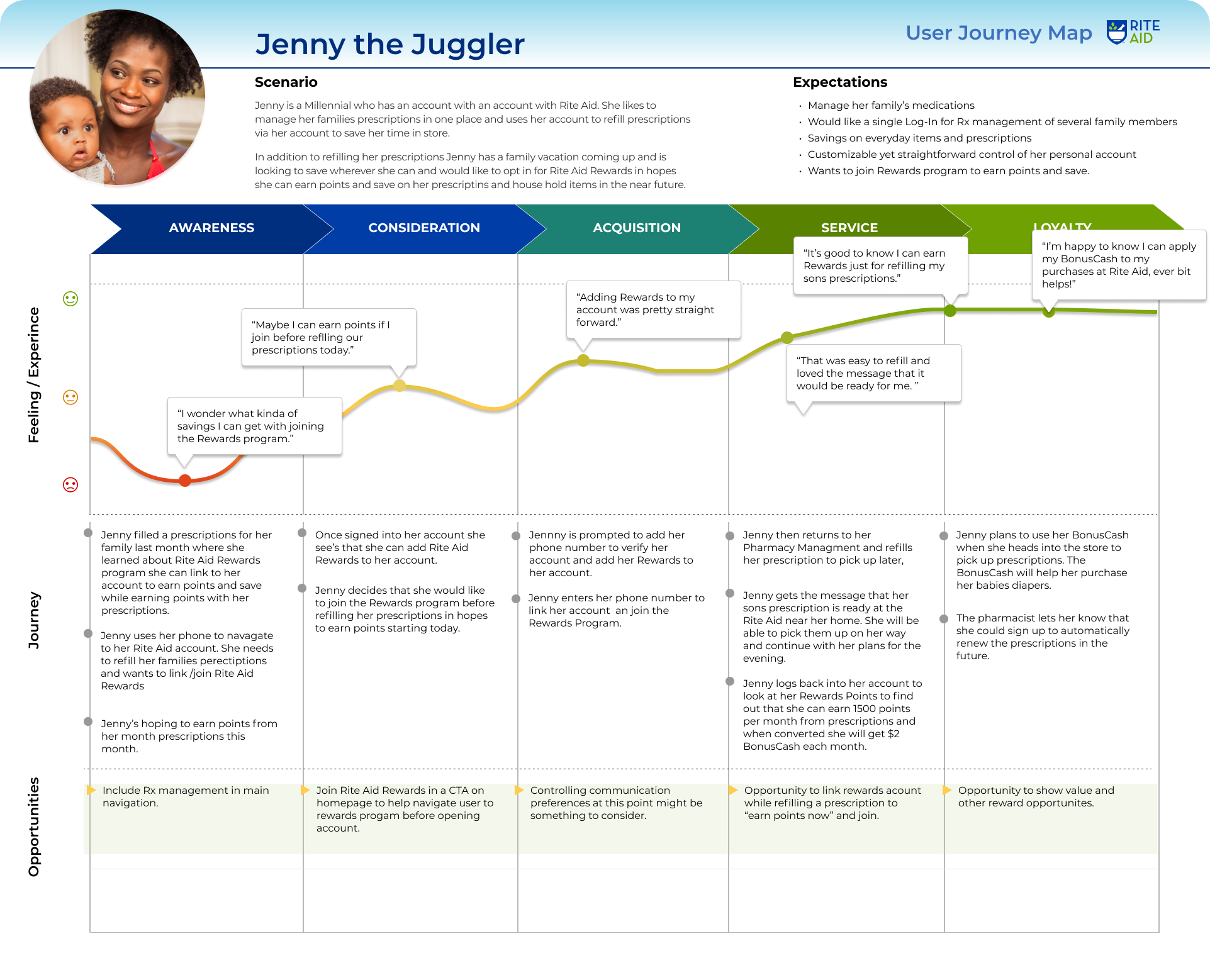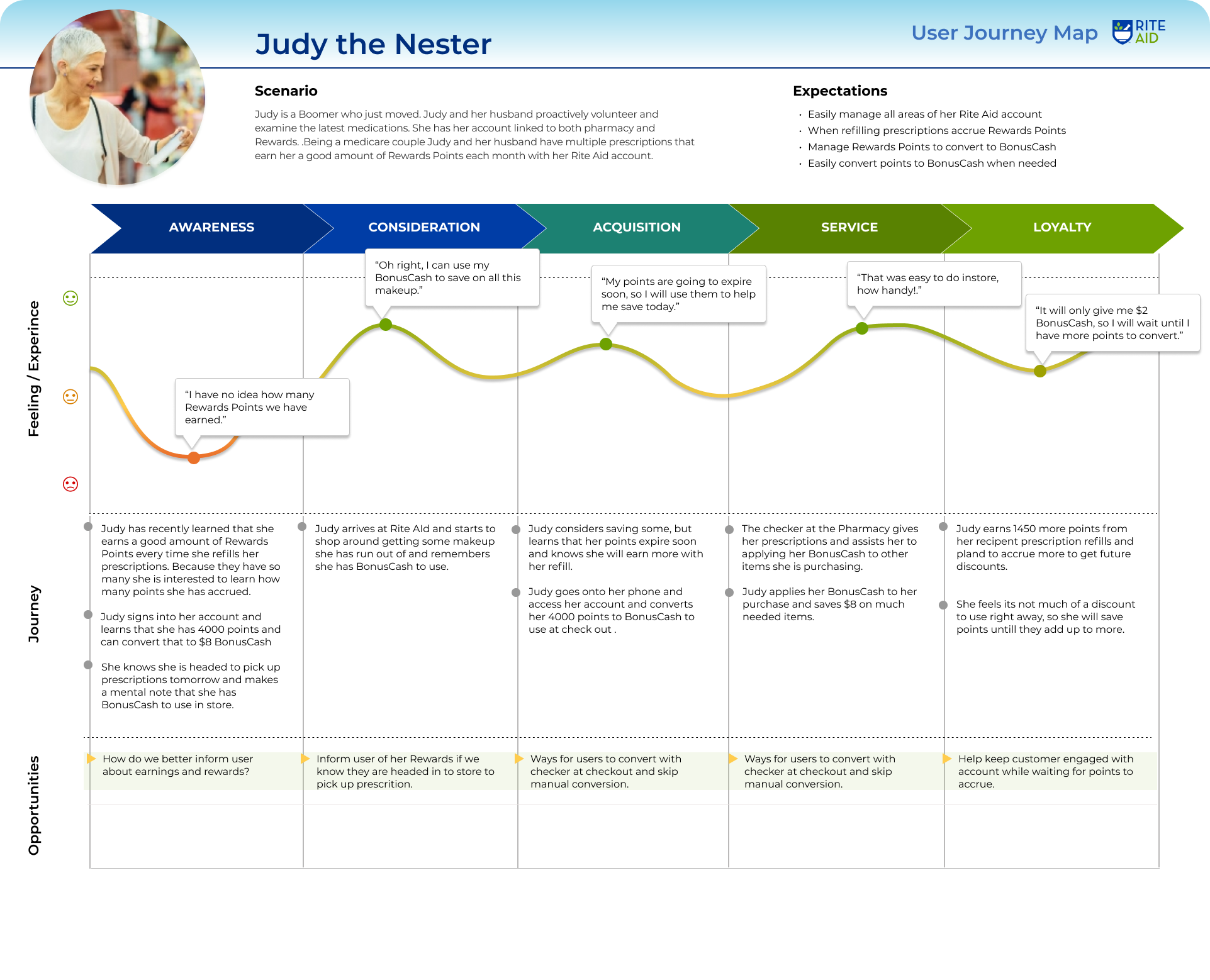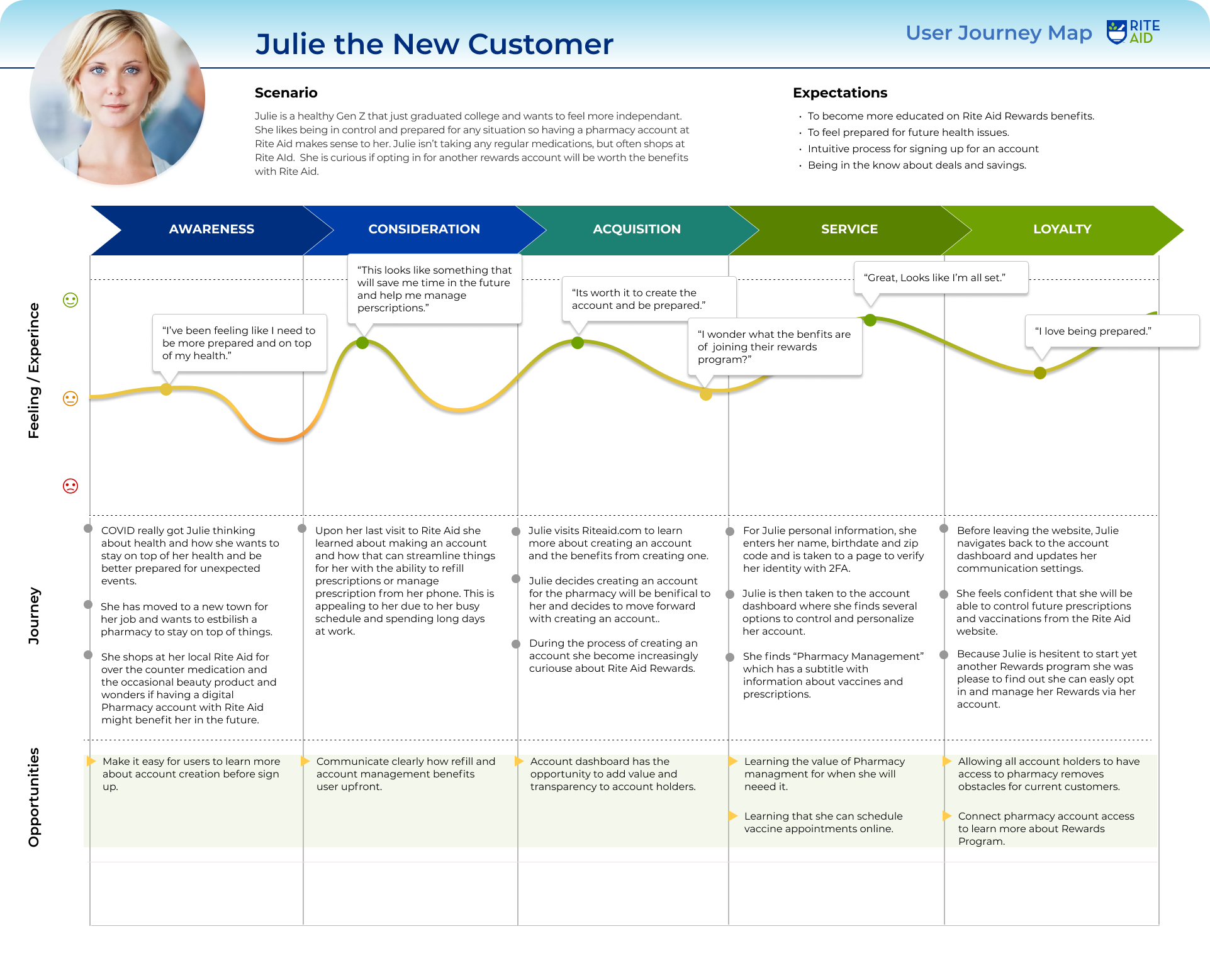 Competitor Analysis
The following primary and secondary competitors were picked for our competitive analysis, where we focus on account creation and dashboard.
We focused on features and UX parameters.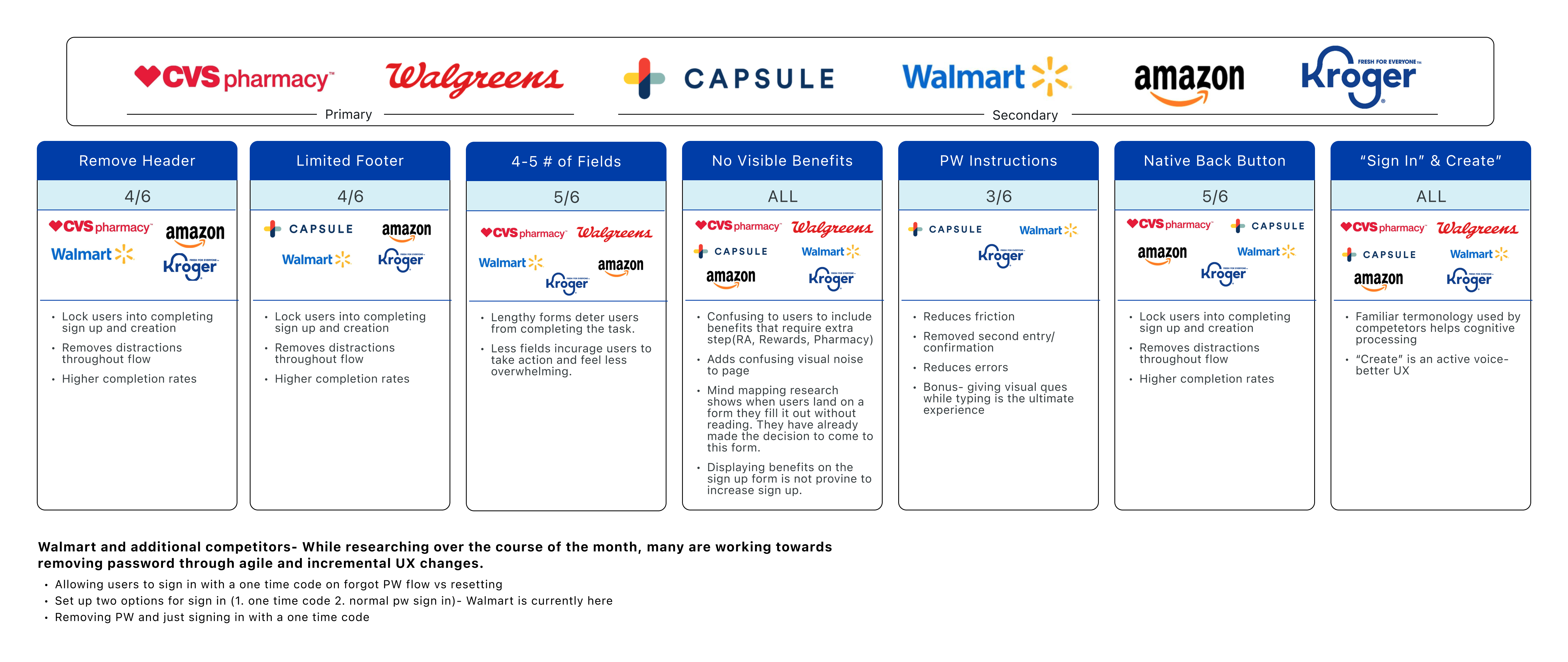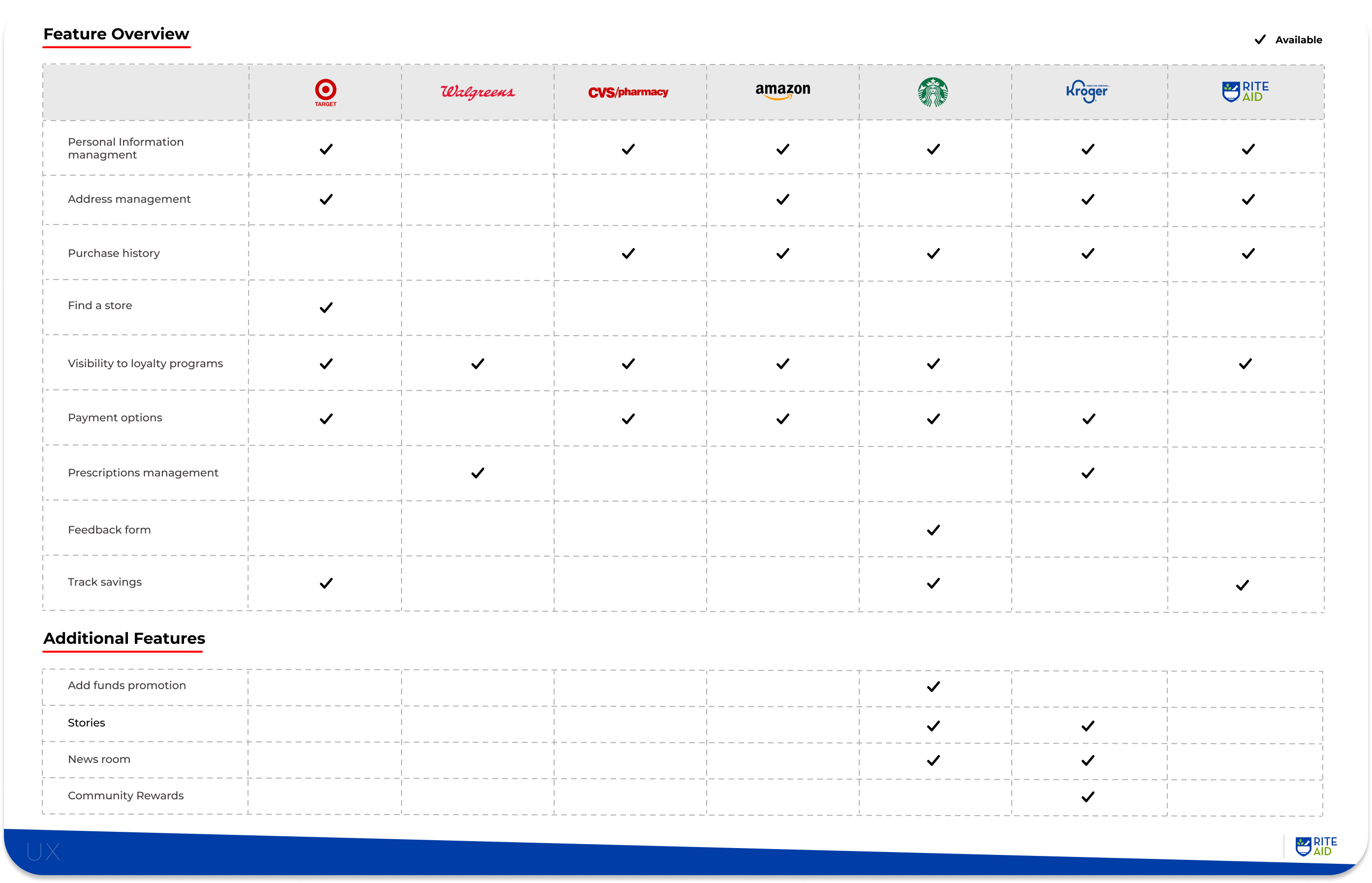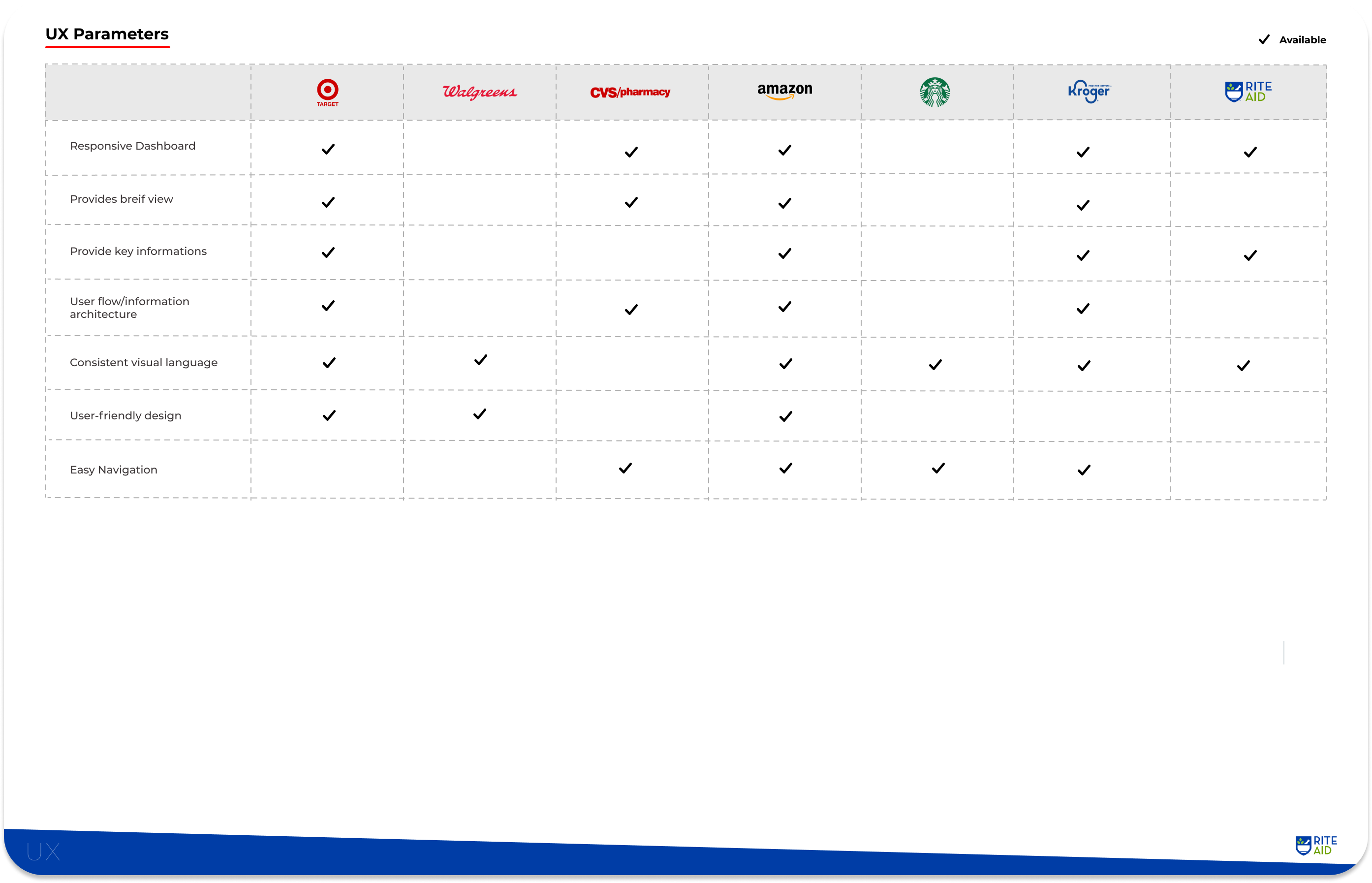 Mind Map
We created a mind map as a visual thinking tool that helped us create structure and a hierarchical graph to show the relationships among pieces of the whole account structure. This has allowed the team to better analyze, comprehend, and synthesize the account dashboard design.
User Flows
We mapped out user flows to understand all of our account creation entry points and how we could simplify our customer's journey of creating a Rite Aid account.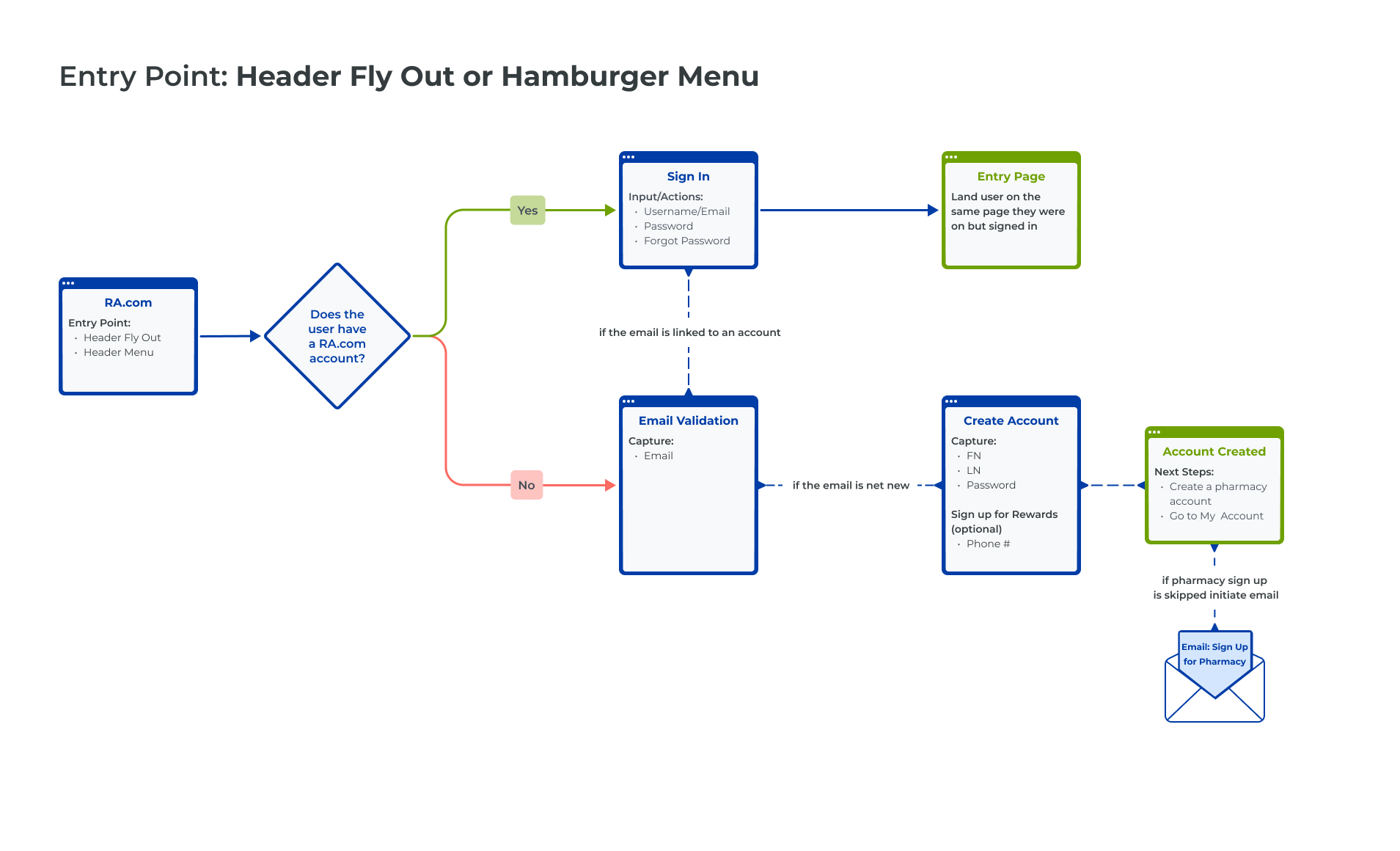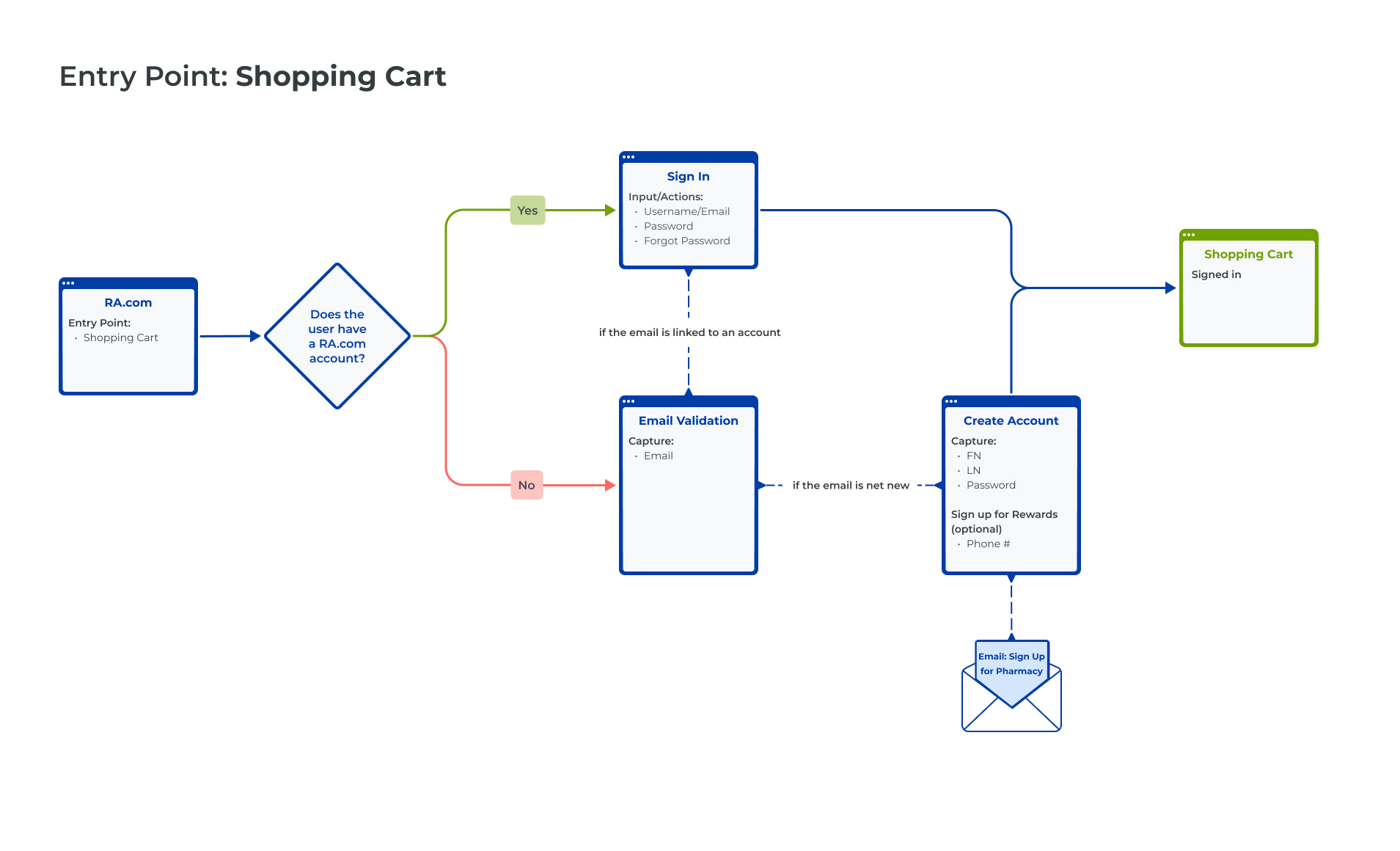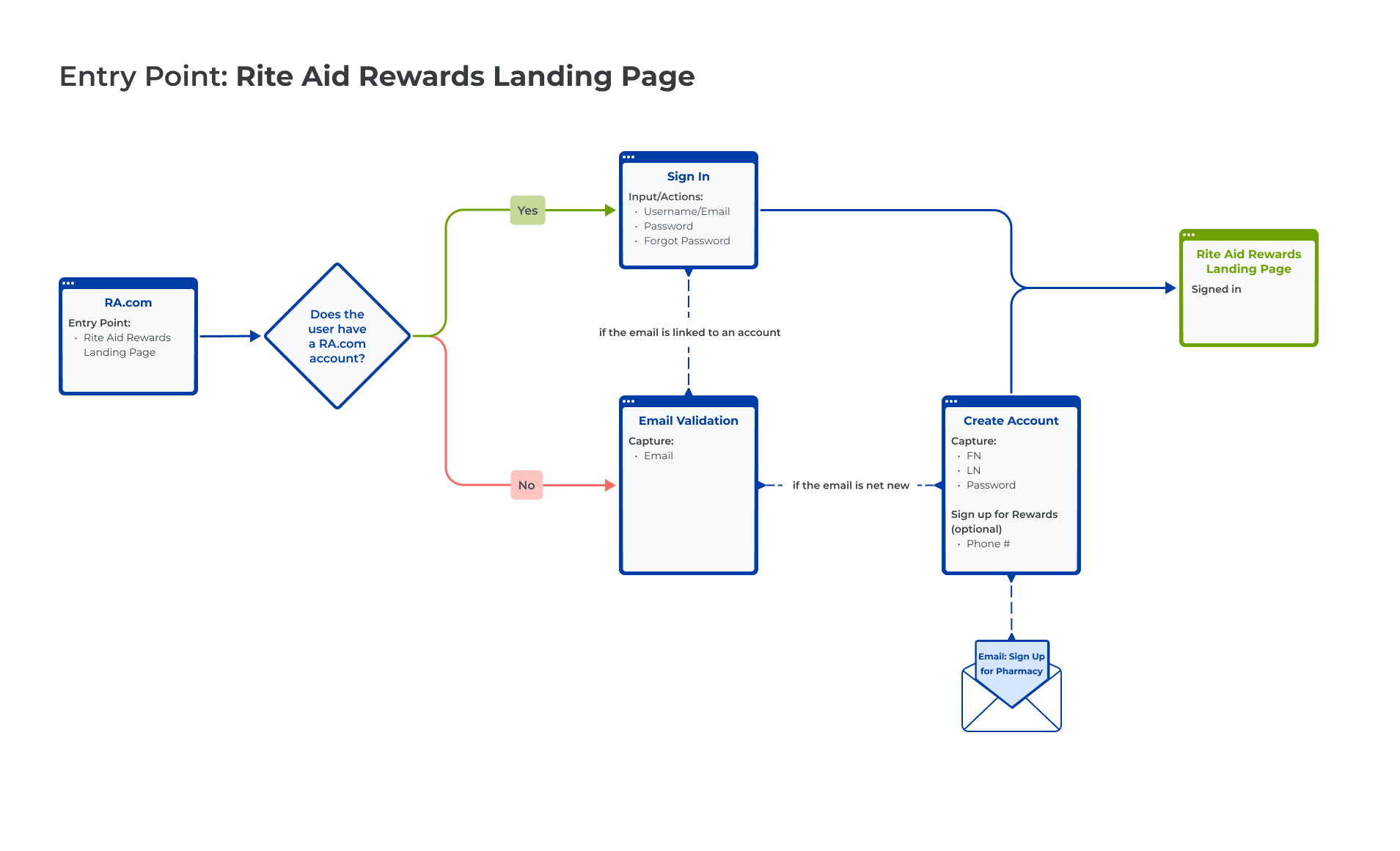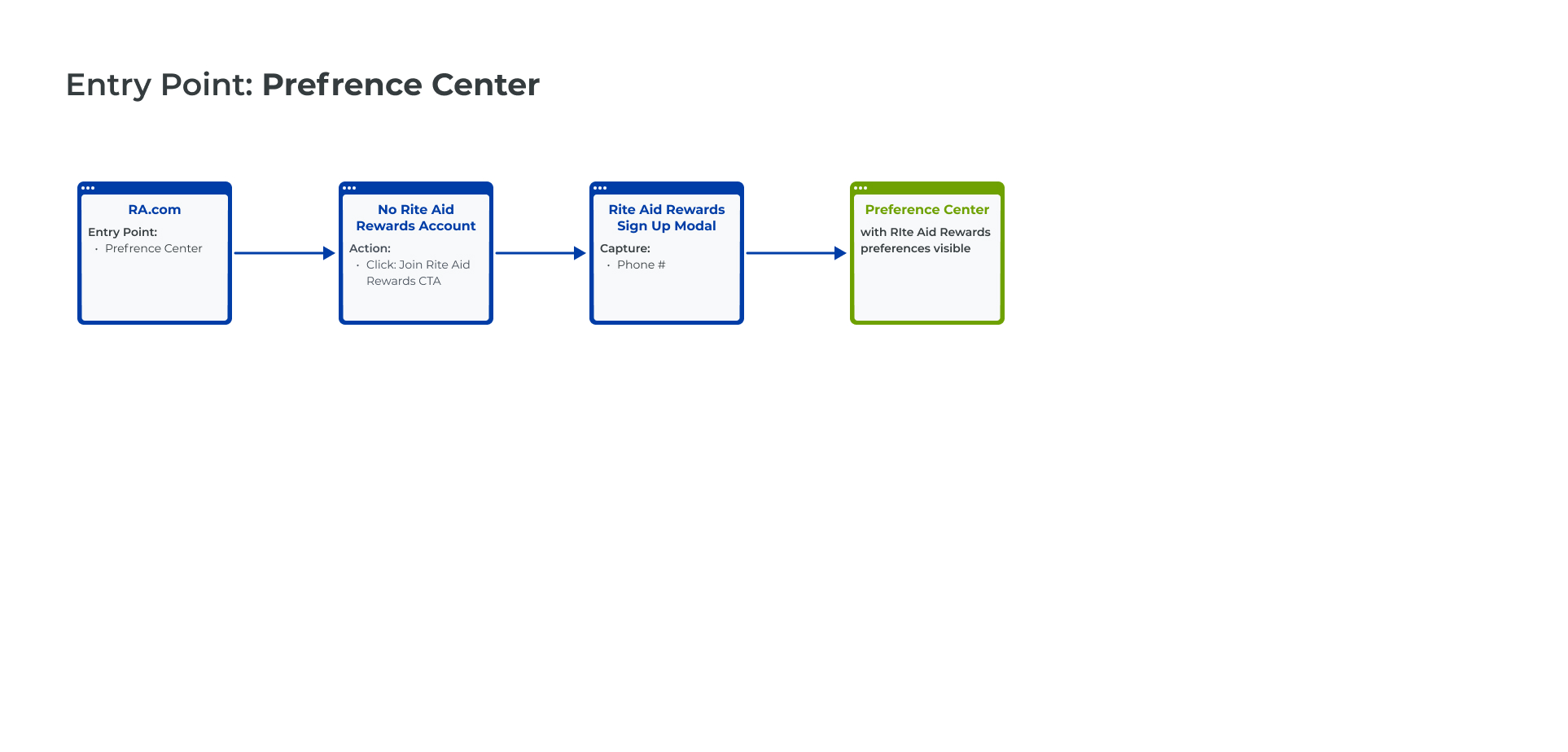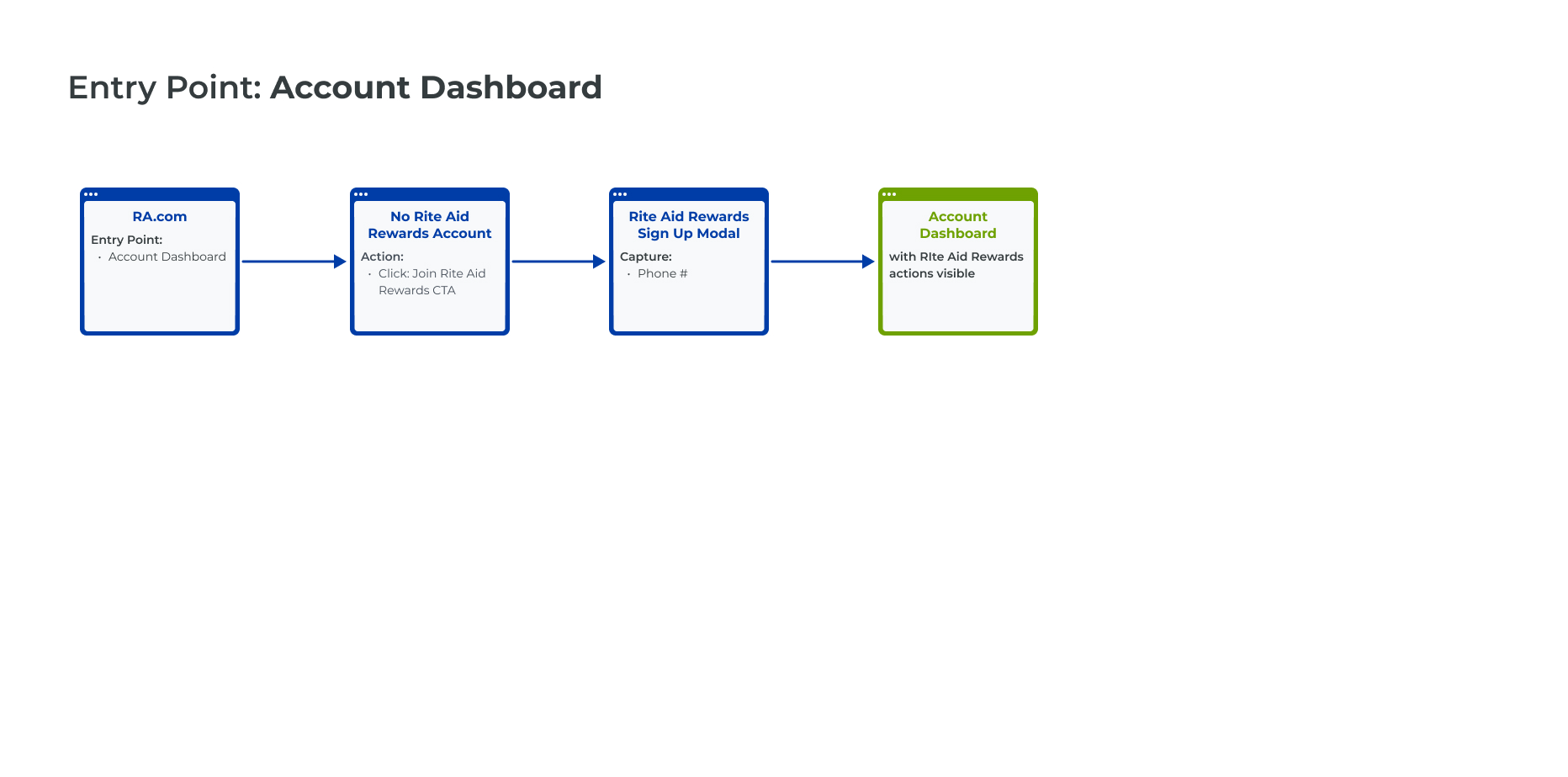 Wireframes
After synthesizing all of our research, we began to create wireframes for our sign-up and account creation flows.
There are also two layouts ( A. simple card design & B. left navigation design) for the account dashboard. We plan to A/B test these two designs live on the site. Wireframes serve multiple purposes but have been especially helpful in clarifying consistent ways to display the information needed on the account dashboard, including determining the intended functionality for the interface.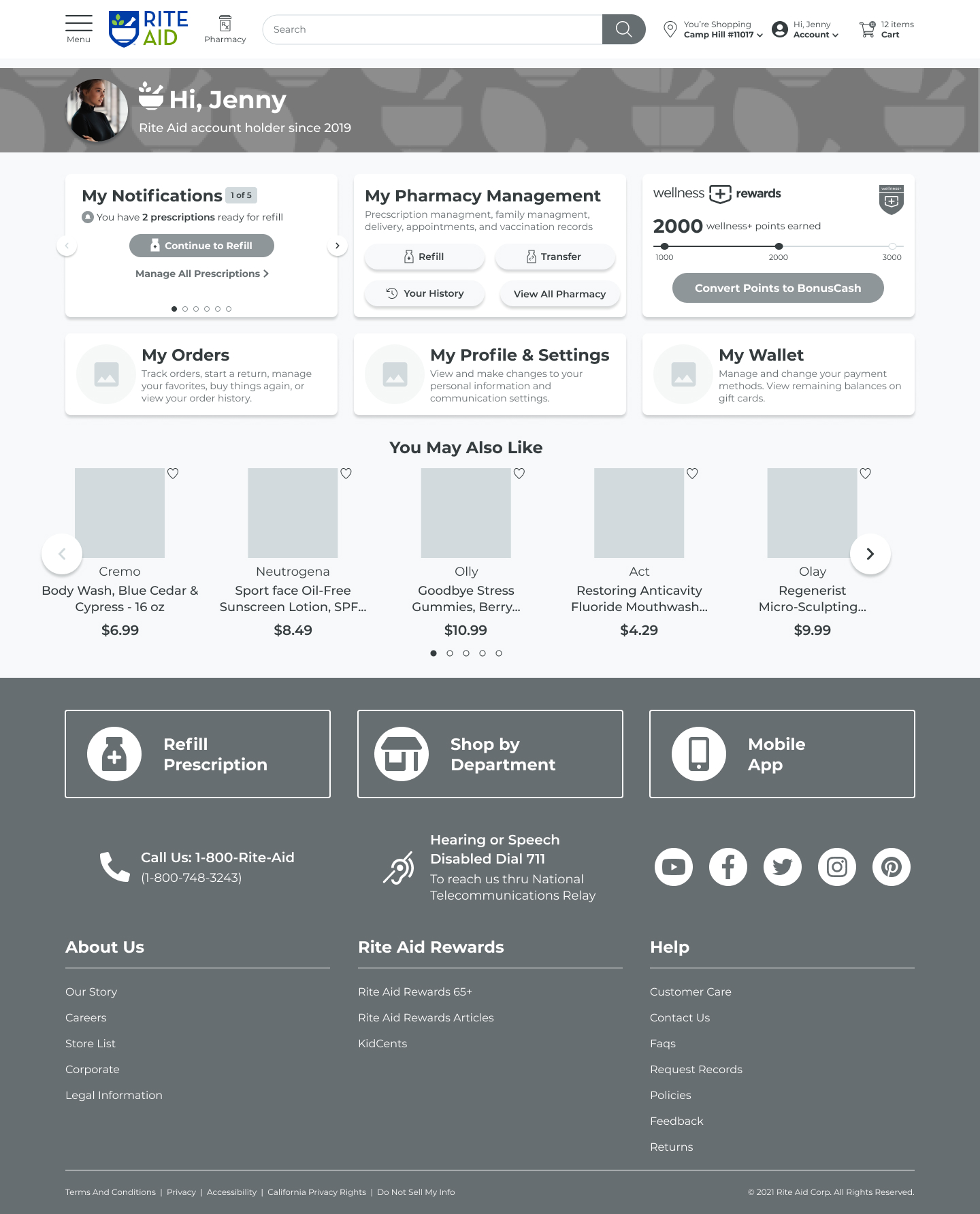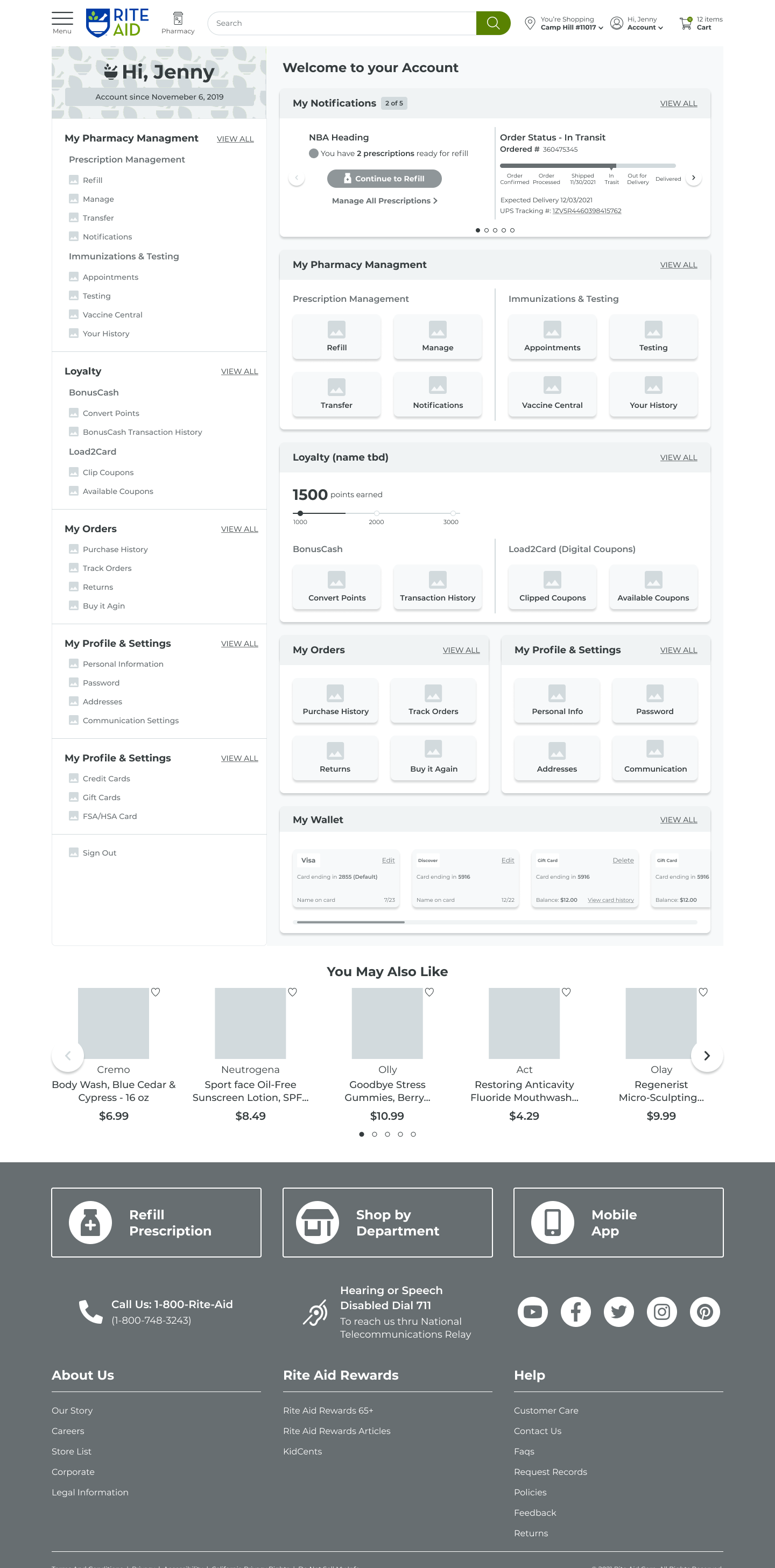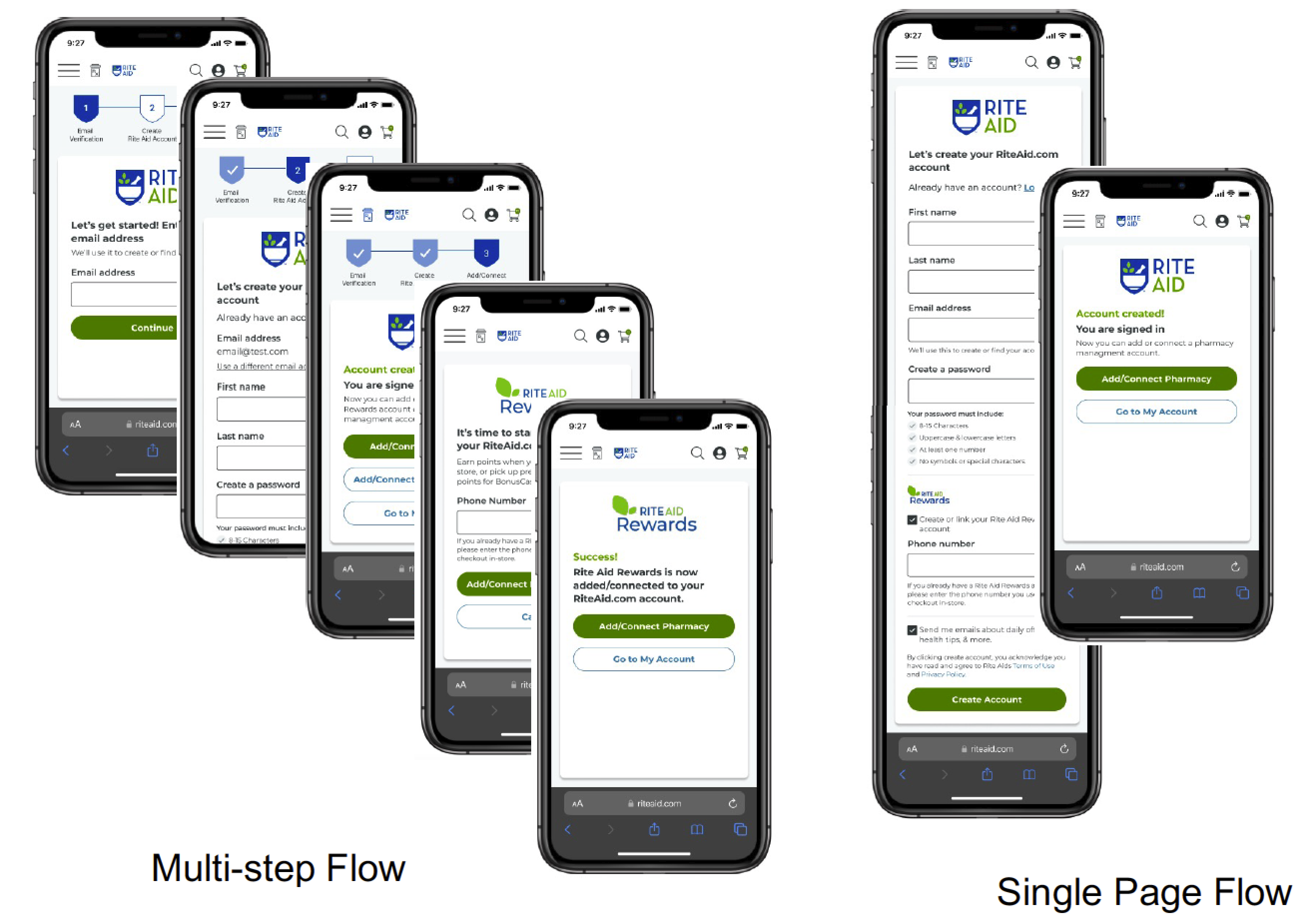 Multi-step Flow vs Single Page Flow
We had two approaches to creating a new account creation. The first design took on a multi-step approach where each area of the site got a page for the user to opt-in with a progress bar at the top. The other approach included account and loyalty sign-up on a single page.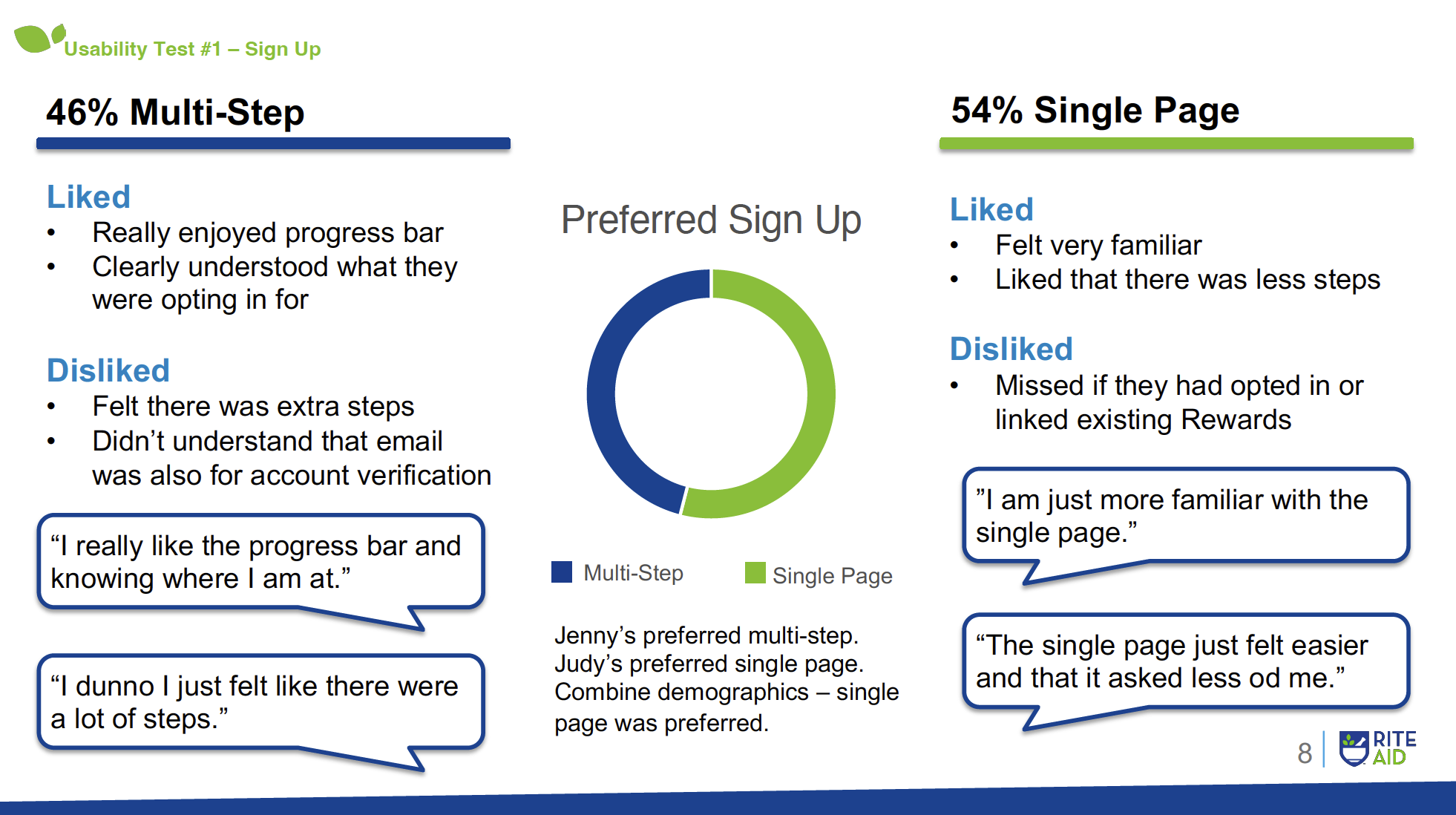 A Combination of Single and Multi-Step Sign up
The design combined the familiarity and comfort of the
Single Page with the email verification component of
Multi-Step:
• Email verify to help those who might already have
accounts verify first – reduce errors inflow
• Single page Account Sign Up- familiarity with a
a feeling of fewer steps
• Opt into Rewards checkbox pre-selected increase
linked rewards
• Progress bar – users liked knowing where they
are in the process
Final Design– User Testing
Completed task successfully
• 100% success – error/friction-free
Describing account creation while adding Rewards
• 90%- completed tasks with very little effort
• 80% had a good experience creating an account
Asked to describe the experience (multiple choice)
• Easy – 100%
• Familiar- 80%
• Good Experience – 80%
• Intuitive – 70%
• Trustworthy – 70%
Left Nav vs Card Design
We are still waiting on the final implementation and results of our a/b test.